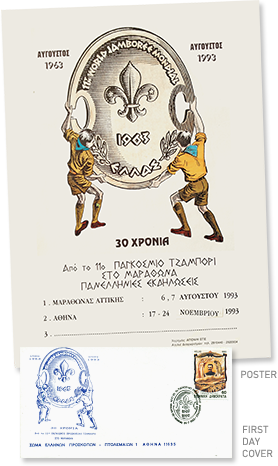 In fact, another special event was organized 20 years ago in Marathon, in 1993, for the celebration of the 30th anniversary of the 11th World Scout Jamboree. Organized by Alexatos and Paradisis, then vice-president of the Executive Board of the Scouts of Greece, on Saturday, August 7th, 1993 a large group of 11th Jamboree participants gathered again at Marathon.
The honorary celebration committee included many government officials such as the Minister of Foreign Affairs M. Papakonstantinou, ambassadors, the Mayor of the City of Marathon I. Bekas, General G. Valis responsible in 1963 for the campsite's technical works, Academy Award-winning composer Manos Hatzidakis, composer of the Jamboree song, M. Lazarimos, Commander in 1963 of ship Ikaria stationed at Marathon Bay, Victor Walker, editor of the "Marathon Courier", Jacques Moreillon, General Secretary of the World Scout Organization, member of the Swiss contingent at the Marathon Jamboree, Thiz Stoffer, President of the European Scout Committee and Alexandros Komninos, President of the Executive Board of the Scouts of Greece.
The all-day celebration commenced at 9.30 with the cleaning of the Shinias beach by scouts and with visits to the archaelogical sites of the Marathon fighters tomb, Ancient Ramnounta, Plateae tomb and the Archaelogical Museum of Marathon. After that, many guests went swimming in the bay of Shinias, just as thousand of scouts from all over the world used to, 30 years ago then.
The main celebration took place on the afternoon of August 7th, at the Leon Anti hotel in Marathon. In a festive outdoors area the guests had the opportunity to find old friends again, receive the event's souvenir, find philatelic first day of issue covers of the event, sign the commemorative frame, remember the days of Marathon 1963 by admiring the souvenir exhibition, participate in the naming of the Shinias esplanade as "11th World Jamboree 1963 Road", enjoy scout songs and watch an aeromodelling exhibition just like in August 1963.
Then everyone gathered around a symbolic campfire where honors and souvenirs were given to special guests, songs were sung and slides from 1963 were projected. The night ended with a festive dinner.