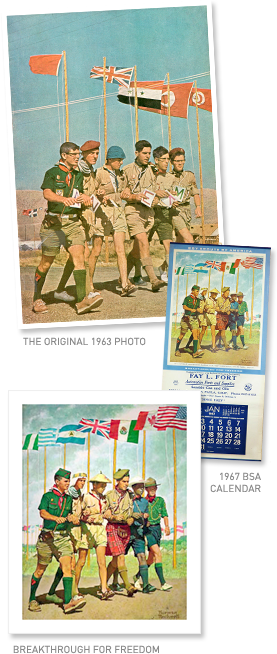 By 1967, 54 years had passed since Norman Rockwell (1894 – 1978), one of America's most popular painters and illustrators, famous for the cover illustrations of everyday life scenarios he created for The Saturday Evening Post magazine for more than four decades, had joined the national staff of the Boy Scouts of America as the sole artist for Boy's Life, the monthly magazine of the BSA. Since 1925, Rockwell had also been illustrating the annual cardboard-mounted wall calendars of the BSA, a task he assumed for 52 years, until 1976.
In 1967, the Unites States were to host the 12th World Scout Jamboree in Farragut State Park, Idaho. Rockwell was asked to create a painting for the 1967 annual BSA calendar that would commemorate the great event. He created "Breakthrough for Freedom", a painting showing a group of scouts marching while holding arms together.
The illustration is actually inspired by a photograph taken at the 1963 World Jamboree in Marathon; the photo shows a group of scouts marching into one of the arena shows as part of the Wide Game that aimed to get scouts acquainted with each other. Each scout had a placard with a letter, and had to find another 10 scouts with the right placards and align in a manner that the word "NENIKHKAMEN" is spelled, then march into the arena in a group.
The original photo was actually on the cover of the December 1963 issue of Boy's Life while the 1967 painting by Norman Rockwell never actually made it on the magazine's cover.
Rockwell's interventions on the original photo are interesting. It appears that the only character left practically unchanged is the first from left, a BSA Explorer wearing khaki shorts, forest green shirt and socks, a white web belt and red sock tabs, all standard BSA issue. Even his photo camera and the Jamboree brass emblem above his right pocket are reproduced in the painting.
Rockwell's Scout calendar paintings of the late sixties and early seventies reflected preoccupations such as friendship among the youth of the world and Scouts of all races having fun together in their patrols and troops. In Breakthrough for Freedom, Rockwell kept the structure and movement of the group but replaced every figure, except from the BSA Explorer -to whom he added a standard issue Garrison hat- with international scouts from the five continents in recognizable national uniforms: He added an Arab, a Filipino, a Scottish and an African Scout to represent all races.
His intervention on the flags is also obvious. He added the greek flag at the originally empty mast and replaced the Iraqi, Tunisian, Turkish and the Jamboree's orange flag with the flags of USA, Canada, Mexico and Nicaragua. The latter country was not represented in the 11th Jamboree at Marathon.