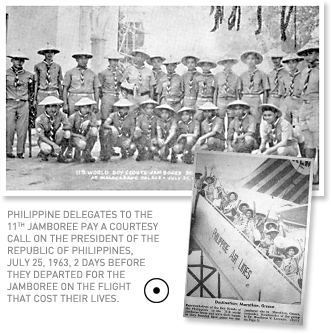 The Official Contingent of Philippines (the host country of the previous, 10th, World Scout Jamboree which took place in July 1959 in Makiling Park, Philippines) consisting of 21 Scouts and 3 Scouters, tragically perished in an airplane crash which took their lives together with all 55 passengers and 8 crew members aboard the de Havilland Comet 4C of United Arab Airlines (today Egypt Air) flight 869 from Tokyo to Athens via Hong Kong, Bangkok, Bombay, Bahrain and Cairo. The aircraft crashed into the Arabian Sea just off Bombay on 28 July 1963, 1:50am at night, while turning to prepare for landing at Bombay Santa Cruz Airport under severe turbulence and heavy rain. The bodies were never recovered. Read more about the tragedy
For the first few days at Marathon, the three flags outside the Jamboree General Headquarters -the World Scout flag, the flag of the Scouts of Greece and the Jamboree flag- in common with all national flags, flew at half-mast in memory of the Philippine contingent that was so cruelly struck by tragedy.
The camp site the contigent would have occupied, in sub-camp Aeantis, was kept empty as a sign of honour to the lost lives.
As documented in his unique testimony, Costas Veloudakis, a member of the Greek Organizing Committee, had to drive to Marathon from Athens that day to convey the bad news in person to J. Plaridel A. Silvestre, the vice president of the Boy Scouts of Phillipines and Chief of the Philippino Contingent at the Jamboree and his colleagues Godofredo Neric, Miguel Gatuslao and Judge Vicente F. Delfin, who were already at the Jamboree as members of the International Staff with the special role of representing the host country of the previous Jamboree. Veloudakis had to drive to Marathon to convey the bad news himself because, at the time, telephone lines were still being tested.
The sentimental burden was enormous when, during the opening ceremony, on the evening of August 1st, after all previous Jamboree kylixes where lit, J.P.A. Silvestre lit the kylix of the 1959 Jamboree and then handed the torch to Crown Prince Constantine, Chief Scout of Greece, to light the central Kylix of Friendship of Marathon.
Everyone was astonished with the scouting spirit of the Philippines when, within few days from the opening, three Philippine Scouts, Assistant Scoutmaster Nicasio Fernandez Jr. and Scouts Louis P. Santiago and Guillermo Flores, arrived at Marathon to participate in the Jamboree as a token delegation. The three delegates were initially intended to have travelled with the rest of the contingent on July 28th, but due to a complication which costed time, they did not make the originally planned trip. In a sign of mourning, the three scouts wore black armbands during the whole duration of the Jamboree.
On their first morning in camp, the token delegates and J.P.A. Silvestre were welcomed for breakfast by Camp Chief, Dimitris "Rann" Alexatos and Organizing Commissioner Colonel J. Wilson.